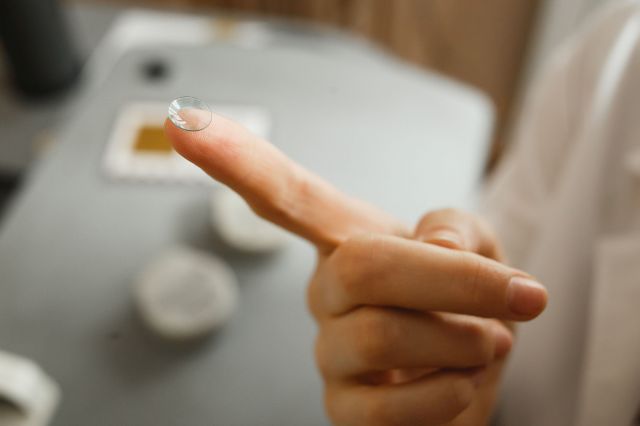 Semi-rigid contact lenses (RGP)
In special cases, when glasses or normal contact lenses cannot correct the visual problem, a RGP lens may be the most suitable solution. This highly physiological lens is in fact able to correct high or irregular astigmatism. These irregular astigmatisms can be found in corneas affected by different ectasias (keratoconus, pellucid marginal degeneration), or caused by a corneal transplant.
Contact lenses for keratoconus
Keratoconus is a condition in which the cornea loses its structure, thinning and causing irregular astigmatism. Unfortunately, for this pathology corrective glasses or the normal contact lenses may not be sufficient. Thanks to special contact lenses for keratoconus (RGP) taylor made and applied in our office in Corvara, we will be able to correct these conditions and allow the achievement of good vision.
Post-surgical contact lenses
Following surgery, the cornea can develop irregular astigmatism. Again, normal contact lenses or glasses are unable to correct the visual error. The custom-built post-surgery lenses (RGP), on the other hand, are able to correct all types of astigmatism and improve vision, respecting the physiology and corneal health.
Contact lenses for high astigmatism
As in keratoconus, RGP lenses are able to correct high-grade astigmatism, leading to excellent and non-fluctuating vision.
Nocturnal orthokeratology
Keep myopia under control and live the day without lenses! Nocturnal orthokeratology is the technique in which a semi-rigid contact lens is applied to be worn at night, while sleeping. During the night the lens leaves a slight imprint on the cornea that corrects the visual error. During the day you will therefore get good vision without glasses or contact lenses. Orthokeratology is also very important in the control of myopia. More and more studies show that this technique is able to slow the progression of myopia in young patients.